This was a project completed as part of my MA in Applied Sound for Interactive Media.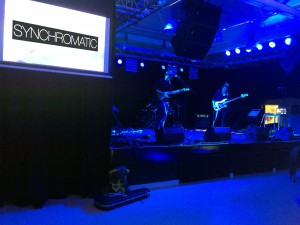 Synchromatic is an Audio/Visual software for live performances. I presented a prototype at the Wesminster University in London. This MaxMSP patch has been developed by myself, Gabriella Scanio and Angel Betode.
The song performed at the end of the video is "Heart Shaped Box" by Nirvana.
SPECIAL THANKS TO:
Arnaud (Drums)
Nathan (Bass)
Louis & Shu (Sound)
Gabriella (Lights)